Digital Deliverance LLC's Vin Crosbie has organized or help organize media conferences in North America and Europe, and can help you organize yours or your organization's.
For examples, Vin Crosbie:
Since 1995, he has been a judge of Editor & Publisher magazine's annual EPpy electronic newspaper awards and from was a juror of Interactive Publishing Europe's online awards during that conference's years in the late 1990 and early 2000s.
If your organization is planning a news-orientated New Media conference, please feel free to contact us about helping organize or moderate it.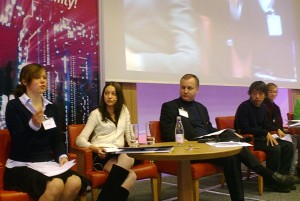 Darmstadt, Germany, 13 September 2006 – The man called 'the practical futurist' of U.S. online media and the woman who first defined and is now redefining Internet strategy in the supremely competitive UK market will jointly lead the 14th annual Beyond the Printed Word – The World Digital Publishing Conference in Vienna this November.

Vin Crosbie, president and managing partner of the Digital Deliverance consultancy in the United States, and Annelies van den Belt, new media director for the Telegraph newspaper group in Britain, will serve as co-moderators of the 2006 edition of the longest running and most prestigious digital publishing conference for newspapers.

Vin Crosbie is widely regarded as one of the most outspoken and expert critics of how the newspaper industry worldwide and particularly in the United States has responded to the digital media revolution. But no one disputes that his is a critique borne of dedication to the newspaper tradition.– Ifra press release