Abel Girón Morales (1979-2008)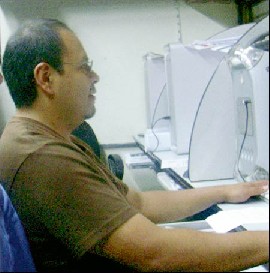 Shot from a crossbow, the plastic and metal arrow struck him in the chest, shattering one of his major arteries. The 29 year-old victim, a graphic layout artist, had left home his home on the outskirts of the city, was walking to work, and apparently hadn't taken notice or worried about the black pickup truck that was following his movements. From inside the truck, the assassin, a "young-looking man", fired while moving. Then the truck sped away.
One of the victim's neighbors, who witnessed the attack, removed the arrow and called for help, but 29 year-old Abel Girón Morales, a graphic layout designer for El Periódico in Guatemala City, died that Wednesday morning, October 22nd, before the ambulance reached the hospital.
The deputy head of the Guatemala Public Ministry section investigating the murder told El Periódico that the murder method showed the "sadism" beyond a the usual murder. What is more unusual is that Giron wasn't killed because he was a journalist for the investigative newspaper El Periódico , but simply because he worked for it. His widow, a photographer, also works at the newspaper. They are trying to intimidate all of the newspaper's staff.
Violence aimed at El Periódico isn't new. In 2001, 50 people armed with clubs, stones, bottles, and burning newspapers and rags tried to force their way into it. In 2003, a dozen gunmen raided the home of El Periódico publisher José Rubén Zamora and threatened him. Bombs have been discovered under reporters' cars.
I often receive telephone calls from friends here in the United States who tell me that they are 'taking a risk' by changing jobs from North American newspaper to another. But they actually have no clue what taking real risks are for a journalism. The employees of new organizations in countries with repressive regimes know all to well. I toured El Periódico last year while working pro bono for my client, the Media Development Loan Fund. I believe I met Girón Morales there.
I work almost exclusively in New Media. However, New Media is becoming the media, the mainstream. It is certainly time for news organizations' New Media divisions to the leadership in fighting censorship. Indeed, Reporters Without Borders reports that 68 of the 195 journalists imprisoned this year are from New Media.
For more stories about the assassination of Abel Girón Morales: