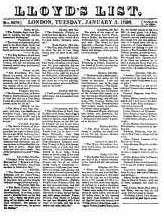 The world's longest-published newspaper will become a non-printed, totally online service nine weeks from now. On 20 December, Lloyd's List, which has been continuously published since 1734, will no longer be available in print. It's online edition for the Web have has been published for more than ten years and its edition for mobile phones has been published for several years.
Lloyd's List, published by the  is considered by many experts to be one of the earliest English-language newspaper. Although it is primarily a shipping industry daily trade journal, that's what the earliest English-language newspapers were: editions that not only published news of which ships were leaving or arriving port but what events were occurring in distant or foreign ports that might affect commerce. It was published weekly by by Edward Lloyd, the proprietor of Lloyd's Coffee House in the City of London, who founded the insurance brokerage market named for him.
Now, 279 years later, the staff of Lloyd's List has found that only two percent of the newspaper's readers read the edition in print.
"The decision follows many years of customer research and preparation and is – first and foremost – designed to ensure that the service continues to evolve with customer demand. This is move supported by the overwhelming majority of our customers. Less than 2% of our readers currently use print-only and no other means to access Lloyd's List. We have already undertaken years of investment in our digital and mobile platforms, but the move away from print will allow us more time and resource to build on that with innovative approaches to data and a more bespoke service that offers content tailored to individual customer needs," said Editor Richard Meade.
We think the significance of Lloyd's List ceasing print is that the world's longest-published newspaper is among the world's first successfully to no longer need to print.